Upcoming Shows & Events
While the inside of our historic building is currently closed due to COVID-19 and we consider how to safely re-open our doors, The Great Arizona Puppet Theater is offering drive-in entertainment!
Our weekend drive-in shows are presented on a limited basis to keep our puppeteers safe in the summer heat and to ensure a good view of the show for everyone who comes down. MINI Drive-in shows offered on weekdays are even more limited with reservations for only 6 cars available ensuring a great view of the show and a very personalized experience! See below for all details and call 602-262-2050 x 0 today to reserve your spot!
Drive-in show schedule is subject to change due to weather conditions and the health and safety of our puppeteers. Reservations and pre-payment are required.
If you're interested in booking a Private Mini Drive-In show at the theater for up to 6 vehicles, give us a call at 602-262-2050 x 0.
Drive-In: Hansel & Gretel
Aug 15, Saturday at 8am.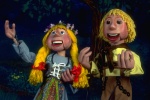 Drive up and tune in to this classic story about the famous lost children, the witch, and the huge gingerbread house! This exciting musical is performed with large rod puppets and includes music from Humperdinck's opera. It's a great introduction to opera for little ones and we recommend the show for ages 5 and up. Download Study Guide here to learn more about Humperdinck's opera and get some great ideas for discussion topics before and after the show!
You can also order breakfast delivered directly to your vehicle from Fair Trade Cafe -- information will be sent to you after you make your reservation.
Admission is $40 per car load for non-members, $30 for members; PAID reservations are REQUIRED and must be received before 5pm the day before the show. Call 602-262-2050, ext. 0 to pay. The parking lot will be open 15 minutes before showtime. PLEASE NOTE: The building will not be open so restrooms will NOT be available. Please plan accordingly.
User Agent: "CCBot/2.0 (https://commoncrawl.org/faq/)"