Welcome Back!
The Great Arizona Puppet Theatre is opening its doors once again! As of Saturday June 12, 2021, we will be open year round, performing shows at the theater Wednesday through Sunday. See below for what's coming next or look here for the full schedule of upcoming shows.
At this time, tickets must be purchased in advance. Please note, starting on July 1, 2022 Friday and Saturday shows will be MASK OPTIONAL. And, Sunday shows will be MASK MANDATED See a calendar of events to purchase here or call 602-262-2050 at any time.
Please read our COVID Safety Guidelines here in preparation for attending a Sunday show.
We are now hiring! We are seeking a leader in Development and Marketing. Plus, we are looking for a puppeteer!
Rumpelstiltskin
Jul 1 - Jul 17, Fri at 10am only
Sat 10am & 2pm; Sun 2pm.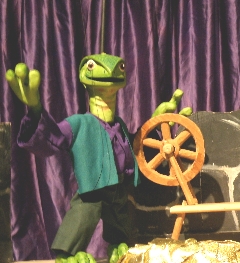 A hilarious version of the classic tale about the strange little fellow with the hard-to-guess name and the miller's daughter who must spin straw into gold. Rod marionettes and a little bit of magic make this show special for the whole family. Recommended for ages 5 and up.
Tickets must be purchased in advance: reserve here or call 602-262-2050 x 4
Support Us
We are so proud of the work we do with our small staff of professional puppeteers and theater artists and we are excited to re-open our doors after over a year! Throughout the worst of the pandemic, we provided drive-in shows to families who needed a break out of the house to see live entertainment. While we are so happy to return indoors, we are still facing a large loss of income from limited school and child care performances and the likelihood of no school field trips in the coming year. Please consider supporting us today with a monthly donation of any amount. Every little bit helps!
Learn more about our mission and history here.
Follow Us
Like us on Facebook and follow us on Instagram and Twitter to stay up to date with all the wonderful things we have happening at GAPT.
User Agent: "CCBot/2.0 (https://commoncrawl.org/faq/)"