Arizona Puppet Slams
A puppet slam is a curated event full of short puppet shows made for adults. You may see funny, edgy, or spooky pieces all in one night! This season we are proud to host a different guest artist at each Slam in addition to our fantastic local Slam Participants. Puppet Slams are for guests 18+ only unless otherwise specified.
Like our Arizona Slam Facebook page to stay up to date on all the wonderful Slam Stuff!
COST: $12 in advance / $15 at the door
Questions or interested in becoming a Puppet Slam Participant? Email slams@azpuppets.org
2019-2020 Slam Schedule
October 4 & 5 - "A Very Spooky" Puppet Slam with Guest Artist Matt McGee
January 3 & 4 - "New Year's" Puppet Slam with Guest Artist Magical Moonshine Theatre
February 7 & 8 - "Love and Lust" Puppet Slam with Guest Artist Drew Allison
April 3 & 4 - "The Birds and the Bees" Puppet Slam, Guest Artist TBD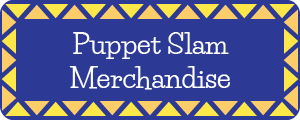 Highlights from past Puppet Slams:
Puppet slams are provided with generous support from The Puppet Slam Network
Sign up for the mailing list
Join our AZ Puppet Slam Email List for information about upcoming Puppet Slams and all other Slam News.
User Agent: "CCBot/2.0 (https://commoncrawl.org/faq/)"